Basements are becoming a true living space in the home and are being transformed into so much more than just a home gym or place to a movie room. This often-underutilized space in homes is quickly becoming a primary living space that offers space for gatherings of all sizes. Basements have always been finished and used as a bonus space, typically a home gym, or theater. They are now designed with the mindset of creating an extended living space and true lower level in your home.
Having zones will break up a large space making it feel more intimate. If you have ever dreamed about having a second kitchen in your home, a basement may be the perfect opportunity, because sometimes one kitchen just isn't enough. Thinking through how to best utilize the space is the first step to the design, of course there are so many possibilities for renovating a basement of any size. It all starts with how you want to use the space, and what features would make it function well for you.
A trending design feature in many basements today is adding a kitchen. Now that basements are designed around the mindset of it being a lower level, this means added functionality is key. A second kitchen will change the way you entertain, skipping past small kitchenettes and choosing to design a full kitchen will maximize usability and create an alternate space to entertain. Having a kitchen will change the overall functionality of your home, expanding the living space and creating another entertainment space.
When designing a basement it's all about how you want the space to feel, and how it can expand the living area in your home. We wanted to share a few that we think will inspire a basement design you will love.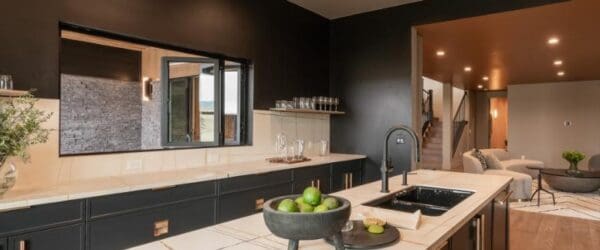 Layout- Depending on how often you'll use this kitchen the food prep space and seating options will be an important piece of the overall design. It's helpful to think of your basement in zones, and designating one zone to the kitchen will help you establish different living spaces within the basement.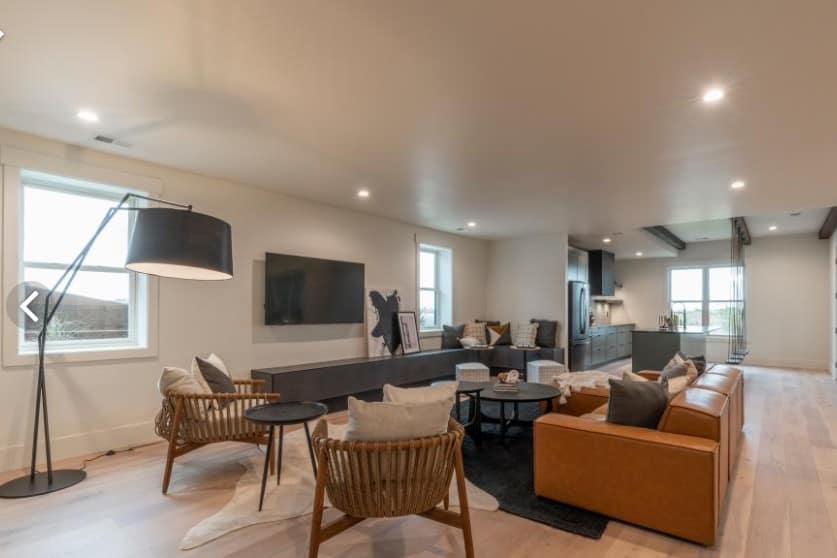 Lighting- If your basement lacks natural light, considering the lighting options for your kitchen is critical. While windows can be an expensive and not feasible, recessed lights are typically a popular choice for an easy lighting solution. This will give the entire space plenty of light. If you have a kitchen, adding pendants over an island will define the space and add a beautiful design detail.
Style- While some choose to carry the same style from the main living areas of their home into the basement, others see it as a blank slate to take the design in a completely different direction. Depending on the size and different zones you establish in the basement, a kitchen is a perfect place to inspire the style for the rest of the basement and make an impact from the moment you step into down the stairs to the lower level.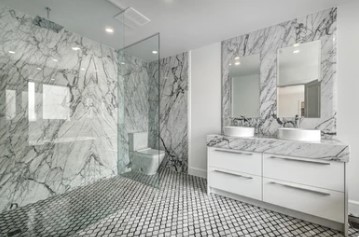 Other design considerations that can truly make your lower level a luxurious and feeling is including a full bathroom in the design. This will make it a true suite, giving guests a private space away from the rest of your home and offers them everything they need. Besides for guests, a full bath can be a great feature to have if you have a home gym. After a workout having a bathroom in the lower level adds convenience and gives you the ultimate luxurious feeling to your home gym experience.
If you are thinking about renovating or finishing your basement and designing a beautiful and functional lower level, it's important to keep all of these design ideas in mind. Investing in such a large space in your home can be daunting, but the choices and investment you make in the design will pay off, it's estimated that homeowners see a 70-75% return on investment according to Zillow.com, which is truly money well spent. Having this additional space will change the entire functionality of your home and give you plenty of options for guests, entertaining, and so much more.