Embarking on the journey to remodel your home involves a significant decision-making process. It's not just an investment; it's a substantial commitment with high potential rewards. While home equity loans and refinancing are commonly explored avenues, there's a lesser-known option worth considering: a personal loan for your renovation needs.
Unlike traditional financing methods, with a personal loan your home isn't on the line as collateral. Lenders base their decisions on your financial credentials—credit score and income—without considering your property details. This option is handy if you lack substantial home equity or prefer not to risk your home. This guide breaks down the pros of personal loans for straightforward decision-making in your remodeling journey.
How to Get Funding for your Renovation:
This two minute video will give you an overview of what to expect when looking to inquire about a personal loan for a renovation project:
Personal Loan Benefits:
---
Quick and Convenient
Approval process is swift and easy. Most can fund a loan within a week!
Fixed Interest Rates
With a predictable monthly payment you can easily budget for your new project. Rates typically range from 6% – 36%*
No Collateral
Unlike home equity loans, you won't risk losing your home if unforeseen challenges arise.
Our KRB Recommendation:
Project Funding With a Personal Loan

STEP 1. Estimate Your Monthly Payments
Before taking out a personal loan for your kitchen or bath project, it's important to know what your monthly payments might look like. We have two tools to help you with that. The first one is a simple monthly cost calculator. It uses your estimated project cost and credit score to give you a quick estimate of your monthly payment for a personal loan. The second calculator goes a bit deeper. It lets you tweak the APR and loan term, which can have a big impact on your monthly payment.
In-Depth Monthly Cost Calculator


Alter loan amount, APR and loan term years
This calculator will open in a new tab on the Hearth website.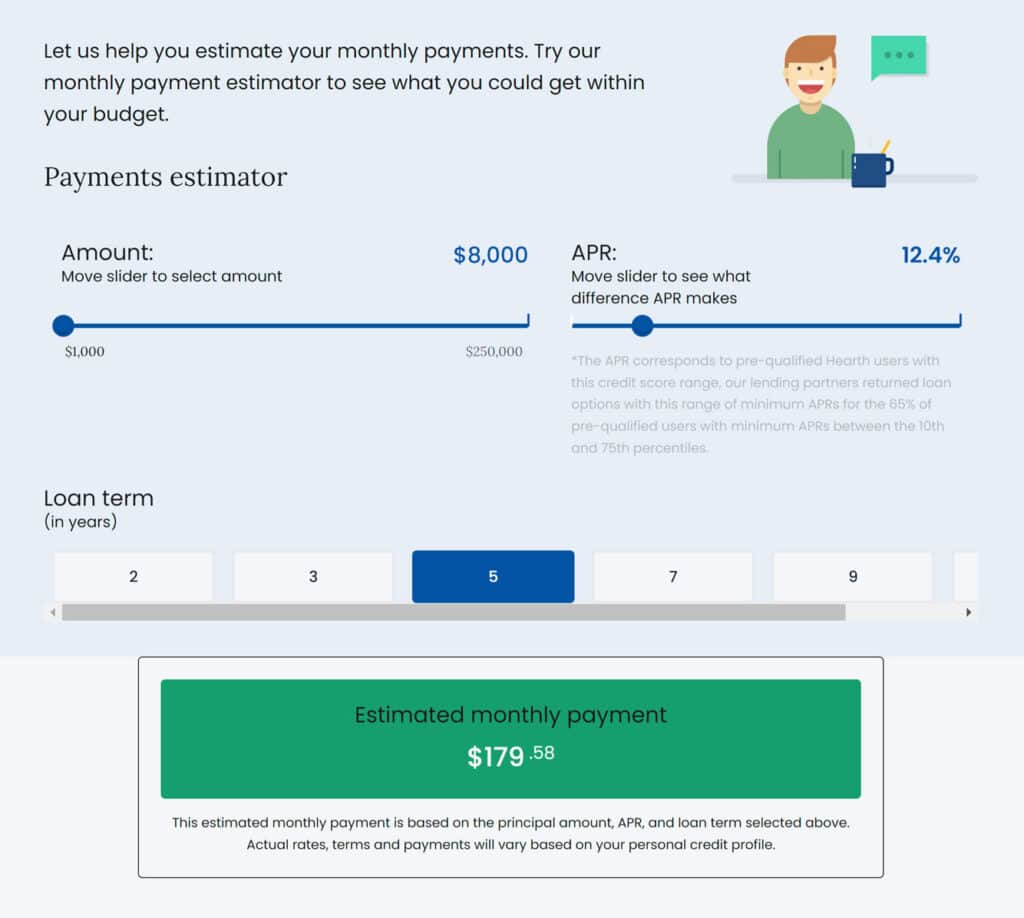 Click here to access the in-depth monthly calculator tool from Hearth financing.
STEP 2. Prequalify For Loan Options – Does Not Impact Credit!
Start by checking your credit to see if you're likely to qualify for a loan. It's simple—just connect with both our partners to compare rates. After that, you'll get several repayment options, each detailing your potential interest rate, loan amount, and monthly payment. Ready for the next step? Reach out and get started today!


Hearth connects you with 17 lenders for competitive personal loans and credit cards. Our quick 2-minute pre-qualification won't impact your credit score. Discover personalized lending options tailored to your needs.
RESOURCES:

HFS Financial, founded by financial experts, streamlines home improvement funding. From pools to kitchen remodels, we've got you covered. Skip the time-consuming loan search—enjoy great rates and low monthly payments with our 60-Second Loan Inquiry. Get funded in record time!
RESOURCES:
STEP 3. Complete Your Loan Application
Once you get your prequalification rates, pick the one that best fits your budget. Then, start the Pre-Approval Process with your chosen lender. Be prepared to provide personal information, employment details, income verification, and information about the renovation project.
STEP 4. Loan Approval
After reviewing your application, the lender will decide whether to approve your loan. If approved, they will provide the loan terms, including the interest rate, loan amount, and repayment schedule.
Remember, it's essential to carefully read and understand the terms and conditions of the loan before accepting it. If you have any questions or concerns, don't hesitate to clarify with the lender.