This year we are seeing a variety of styles that are trending from the classic look of shaker door, to the upscale look of a bevel edge. Cabinetry is a foundational piece of any kitchen or bath design and is a key feature that will help you achieve the overall design aesthetic you are looking to create. We are seeing a shift in styles that are trending, many styles that were considered dated are making a welcome return in kitchens and baths. Whichever door style you choose remember that cabinetry is one of the biggest investments in a kitchen or bath renovation. Working with a designer may be the perfect solution for helping you decide on a style that will blend harmoniously with your space.
Classic Shaker
Shaker cabinets remain a popular choice because of their classic appearance.. It's a style that pairs well with virtually every design style and is really the chameleon of cabinetry. The simple, clean lines, can blend with a boldly designed space, the simplicity of the design is what makes the entire kitchen feel like a crisp and clean feeling. A shaker style cabinet is the unifier in design and can pull together a space that may incorporate multiple styles. By far one of the main reasons to appreciate a shaker cabinet is the simplistic beauty and it's ability to pair with any aesthetic.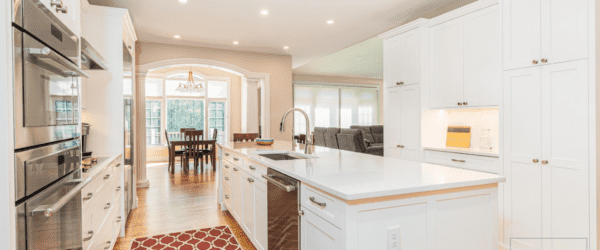 Glass-Front
A run of cabinetry with a glass front can bring a touch of elegance to your kitchen. Perfect for displaying your favorite kitchen items, dishware, or wine glasses, it can be a stunning focal feature. In many ways glass front cabinetry is replacing your grandmother's China cabinet. It's a beautiful way to display so many items that would otherwise be hidden in your kitchen. Choosing glass front cabinets is something that will add contrast and beautiful dimension to your kitchen. From color, to texture and other designs, glass inserts in cabinetry have come a long way from standard or bubble glass.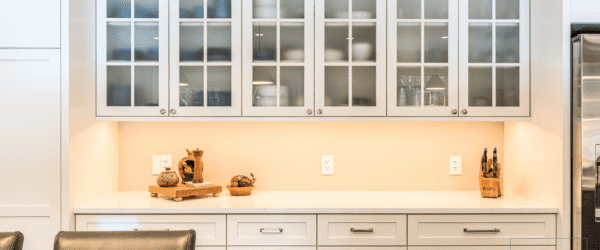 The Bevel
It's a modern twist on the classic shaker style cabinet, and if the traditional shaker style cabinet feels too safe, the bevel edge will bring a sleek look to your space. A bevel edge still has the crisp and timeless look of a shaker cabinet but has a softer and upscale appearance. The minimal molding detail offers a clean look while the bevel is the perfect way to add visual interest and an elevated touch.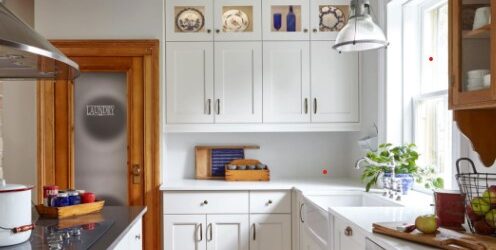 Reeded
If you're looking for contrast, texture, and an overall unique design element, then a reeded door style is for you. Giving a contemporary feel and unique architectural detail to your kitchen or bath, a reeded style is a beautiful choice if you want your cabinetry to have a rich and textural appearance. Whether you choose a natural wood finish or a painted finish, a reeded door will bring a unique, and refreshing look to your kitchen or bath. Popular in the 60's-70's it was typically chosen to accent contemporary design, but now it has come full circle and is bringing a retro-flair to homes in this decade.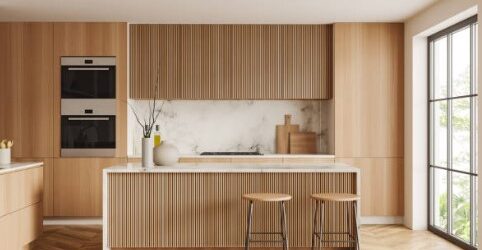 Slab
A slab style cabinet can help you achieve a sleek, contemporary feeling to your kitchen or bathroom. Whether you choose a natural or painted wood, the understated elegance will complement a modern or contemporary design. Choosing a slab style door is a perfect choice for those who value functionality and modern aesthetics in their living space. With its practical benefits and timeless style, slab style cabinet doors are sure to elevate any home's interior design.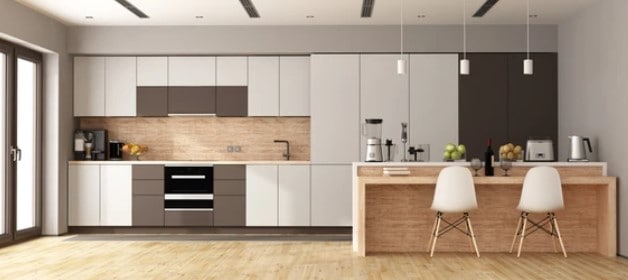 The Overview
When you are designing your home, it is just as important to think about not only the feel and finishes of each room but about the overall aesthetic of the home. Kitchens and baths anchor and define your style and pull the look together. Cabinetry choice is key in setting the design tone in your home and ensuring a cohesive look.