There are so many decision when it comes to designing a kitchen and it all starts with inspiration. When you think about the space, consider what pieces of the design are most important. What do you want to change, what's the style and feeling you wish to achieve, and what will make your kitchen a beautiful and enjoyable space for years to come? Designing your kitchen should be an exciting process and with plenty of inspiration you can achieve the kitchen you've dreamed of.
1. Think ahead
When redesigning a kitchen, it is important to think through every piece of the design. Inspiration is key and there are so many great resources that can be an invaluable resource for you. Creating boards on Pinterest and Houzz can be a great way to show a designer what you are looking for when it comes to style and design. This can be the perfect way to keep all your ideas for your renovation together and is something that can help you make your kitchen or bath a beautiful space that you will enjoy every day.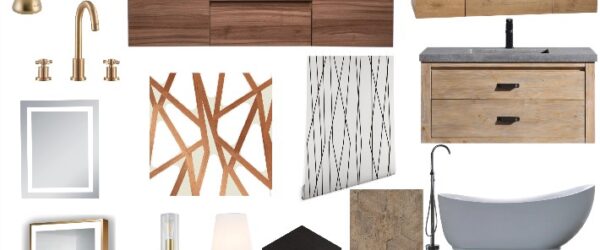 2. Storage
Having room for everything is something that is key, organization will give you complete peace of mind. Kitchens and baths are high-traffic spaces in our home that need to function for our lifestyle. In your kitchen, think about cabinetry layout, and features within the cabinets. Drawer organizers, pull-outs, and pegs for pots and pans are just a few ideas that can be included in custom cabinetry design. It is important to consider the places where you can increase functionality, and this can play a big role in the layout of your kitchen.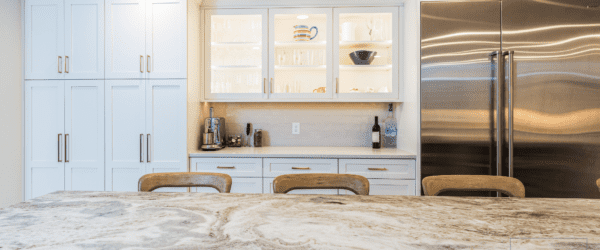 3. Lighting
Choosing the right lighting for a kitchen can be a challenge. A kitchen needs an abundance of natural light, but if you have natural light in your home, this is something that can impact your lighting choices. Recessed lighting remains popular because it can provide enough light and can be changed through dimmers. If you are looking to add some ambiance pendant lights may be the perfect way to anchor a large island and provide an opportunity to include a beautiful design accent. Sconces are a rising trend in kitchens and can be mounted near a window sink or stove area, framing the space and adding the perfect touch of ambient light. Having the right balance of task and ambient light is something that a designer can help you with, but keep in mind the feeling you want to have in your kitchen, and this will shape your lighting choices.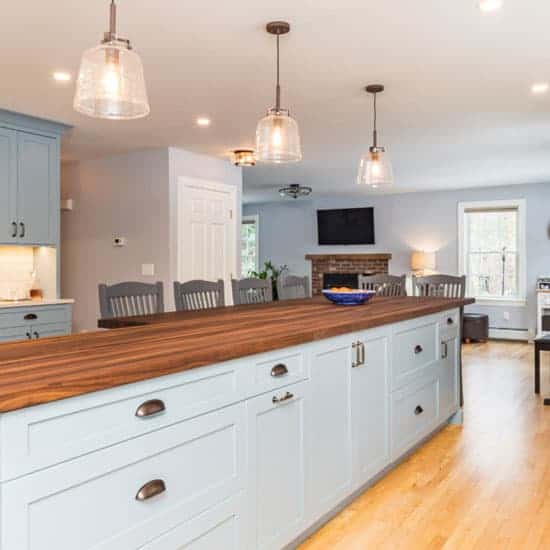 4. Power Preparation
Be sure there are appropriate power sources for relocated or new appliances. This is especially important when replacing old appliances. Always remember it is important to have a plumber and electrician inspect your kitchen or bath and check the integrity of the various hookups associated with electric, and water. When installing any new appliances this is always the time to make sure that everything follows the current code. While you have experts on site, remember that you want to make sure all appliances are properly installed and connected.
5. Space and surface.
There is no such thing as too much counter space. Choosing a material that looks beautiful and functions in your everyday life are two important considerations. Today, there are so many choices when it comes to blending function and beauty and this means you can choose a material that offers you both and that you will love. Quartz, and other manufactured materials such as Silestone, and Dekton are rising in popularity because they have the look and feel of natural stone but are resistant to scratches and heat, making them exceptionally durable. Mixing materials is another trend that can add contrast to the design and give your kitchen a unique feeling.
Choosing different counters can be a perfect way to blend styles and give your kitchen a beautiful fresh aesthetic. There are so many counter materials that can change the design and feeling of your space, and by pulling in a warm wood countertop paired with quartz you can balance traditional and contemporary design. Having a different material on the perimeter then the island may make your kitchen feel larger and pull in accent colors to the room.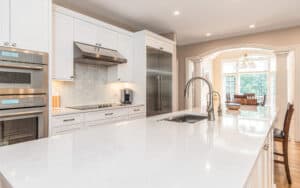 6. Furniture
The kitchen has evolved into a living space in your home and having the right furniture that blends with the design makes it a space for gathering. Barstools are a piece of design that should offer style and comfort and choosing the right stools for the scale and style of your kitchen is important. When it comes to choosing a table and chairs for your kitchen think about how you want the space to feel. Are you going for a luxurious or casual feeling? Is a large table what you need for your entertainment needs or will a smaller table have combined with island seating work well for your needs. There are so many things to consider in a kitchen renovation but seating within the kitchen is something that you need to consider because it really will change how you use the space.
7. Sightlines
While renovating your kitchen think about the sightlines to the rest of your home. Is having seamless flow from the main living areas and into the kitchen important. Many homeowners who can take down walls to have a more open concept floorplan will choose to do so because it changes the functionality of your home. There is also a peace of mind that comes with being able to see beyond your kitchen and into the other rooms of your main floor, especially if you have children.
When designing your kitchen, think about the layout and how it will impact your ability to see into the rest of your home, this is important for many reasons and safety and functionality are just two pieces that you may want to consider. There's also the entertainment factor, which is something to consider, if you watch all of the games in your living room, does it make sense to position the island so you can see all of the action while cooking. These are all dependent on how much you can open the space and take down walls, but it's important to consider this before renovating.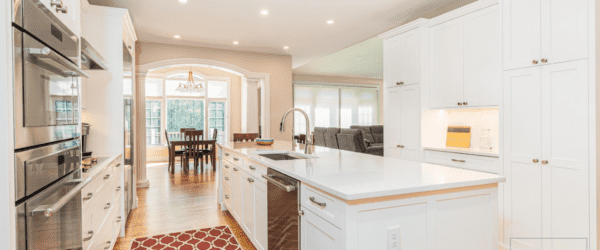 8. Clear the air
The ventilation in your kitchen is so important for your safety and is something that a designer will help you make sure if functioning for the size of the space and follows the code. Depending on the size of your stove the criteria for how much "air space" is needed will change, but it is important to establish this before beginning the renovation so that the ventilation pipes are properly installed. When in doubt always check with a professional who can advise you.
9. Trash talk
Don't forget to plan for garbage and recycling bins. Do you want built-in bins cleverly disguised behind a cabinet door, or a sleek, stainless-steel garbage container that's positioned out of the way?
10. The Beauty of Floors
The flooring in a kitchen is a major design feature. It's an opportunity to either blend the new floors with the rest of your home or create an entirely different feeling which can be achieved through choosing a different material. Hardwood floors are often a popular choice, but the finish and style can be changed to give your kitchen a unique feeling from the rest of your home. Reclaimed wood floors may be a perfect way to pull in a rustic feeling to your modern farmhouse inspired kitchen and if you choose a wider plank can feel different than the rest of your home, giving it a fresh feeling. If the traditional plank look of hardwood isn't what you are looking for then maybe doing something bolder is the best choice. Pattern is something many are afraid of, but a herringbone design can bring a touch of contemporary to your kitchen and be a bold statement in your kitchen while adding a touch of classic design.
Choosing a floor material that will hold up in your kitchen and that you will love will ground the space in a beautiful way. This is where a LVP or luxury vinyl floor may be a perfect choice. Luxury vinyl has all of the beautiful qualities of hardwood, but they are resistant to water, scratches, and are extremely durable. Whether you choose hardwood or an LVP it's important to remember that there are so many finishes and colors that can blend with any style.