When it comes to a kitchen that will function well for you, two critical elements to consider are the organization of the space and the maximization of storage. This can and should be done without sacrificing beauty. There are ways that homeowners create a kitchen that offers plenty of space for all their dishware, small appliances, and more. The difference between a kitchen that looks beautiful and a kitchen that functions beautifully changes how you use the space. Working with a designer will help ensure that your entire kitchen works well and has the added organizational features in a place that makes sense. Good design will transform your space and make the time you spend there enjoyable.
1, Step back and look at the whole space. Think about the spaces in your kitchen as separate work areas. This will help you to understand how you use the space. Identifying ways that it can function better for you is a great place to start when you begin the renovation process. Consider your day-to-day patterns within your kitchen and how you use each area and where improvements can be made. This is key to making sure that you and your designer accommodate your needs when it comes to storage and functionality.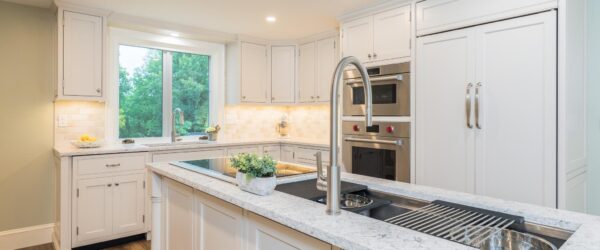 2. Add plenty of roll-outs. One of the major ways that people are maximizing storage is by adding roll-out shelves as opposed to traditional stationary shelving. There are a few benefits to rollouts, the first being the amount of storage you gain by having deeper cabinets. This allows for larger drawers, which increases your ability to store more. When you have rollouts, you can also maximize the footprint of the shelf and easily access everything, which allows you to store things in a way that makes sense.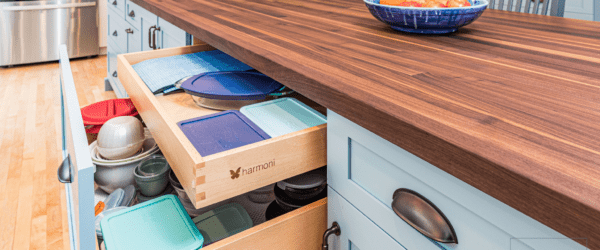 3. Magic corners change the game. The magic corner has become the new version of the Lazy Susan. Not only are corners of your kitchen under-utilized, but they are a perfect place to store items that create an issue in other places. Large pots and pans, and things that need to be stored vertically are typically the best things to store in a corner because they'll fit and be out of the way of the higher utilized spaces.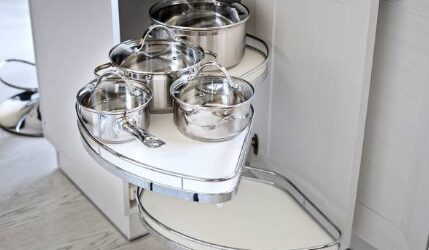 4. Appliance Garages. Keeping counters free of the smaller appliances that can take up a lot of real estate will improve the entire look of your kitchen, giving it a clean, uncluttered aesthetic. Pull downs and appliance garages are typically the most popular way to store appliances.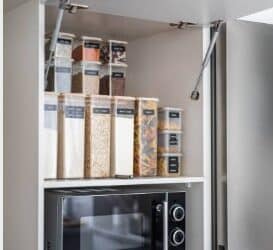 5. Think outside the cabinet. There is so much more opportunity for storage apart from cabinetry. If there is a wall in your kitchen that features a decorative element such as brick or tilework, consider using that space for open shelving. This will enhance your storage space in a beautiful way and allow you to create an open and airy feeling in your kitchen.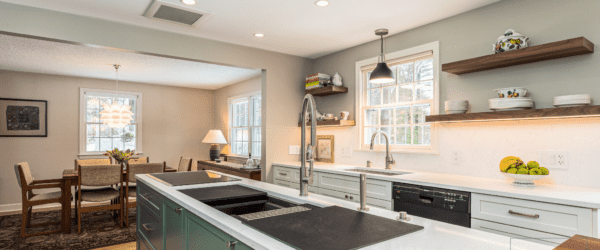 6. Continuity is Key. If you want your kitchen to have a sleek and seamless appearance between cabinetry and appliances, consider paneling your appliances. The panels will give your kitchen a cohesive look and keep your cabinetry looking streamlined. Another benefit of integrated appliances is how they will visually make the entire space feel larger because the cabinetry will blend seamlessly.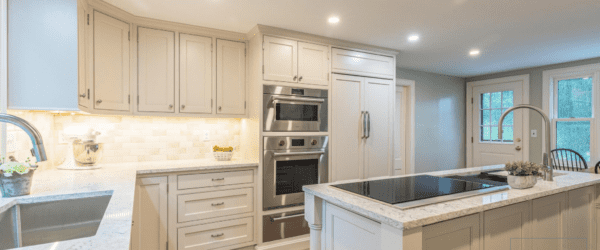 7. Designated workspace. Home offices have been moved to the kitchen, and this means having enough space to work has become critical. The 80's and 90's trend of a built-in desk in the kitchen is making a comeback. Having a dedicated workspace in the kitchen makes sense to keep your office area separate from the food prep area. It also enhances organization while increasing the usability of the kitchen space.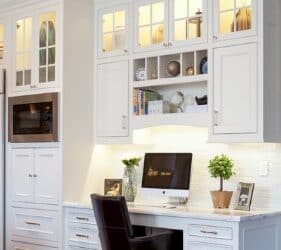 8. Consider a prep kitchen. If you have an underutilized pantry or extra space near your kitchen, this may be the perfect place to add a prep kitchen. A prep kitchen is where all the behind-the-scenes meal preparation can take place, keeping your main kitchen clear of the mess. Additionally, this is a space where you can stow away all of the dishes for clean up afterward, keeping your kitchen looking clean during mealtime or while entertaining. A prep kitchen is the perfect space to keep small appliances hidden, but also is a popular place to keep a fridge or freezer, dishwasher, and sink. Having all of this in that secondary kitchen will limit the number of tasks you need to do in the main kitchen, which will keep it chaos and clutter free.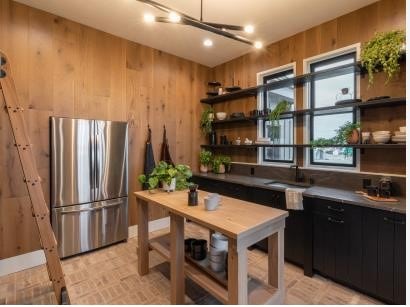 9. A built-in pantry. If your kitchen cannot accommodate a walk-in pantry, you can still create dedicated pantry storage with floor-to-ceiling cabinetry. Adding rollouts can make this area an efficient and organized space for all your food storage that is easily accessible. Having an integrated pantry will help you separate your kitchen into different zones and keep your food storage separate from your dishware.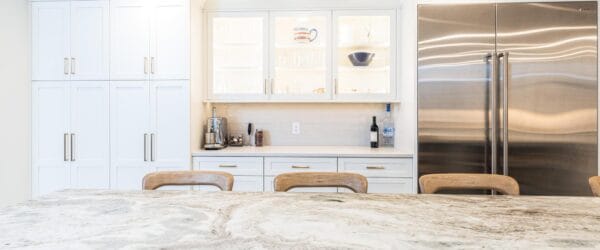 10. Peace of mind. Having a well-organized kitchen will give you a sense of calm and joy as you use your kitchen every day. Knowing that you have plenty of storage that works well for your needs is something that will bring you satisfaction and reassurance that you have maximized your renovation. Your kitchen should be an inviting, beautiful, and functional space, and incorporating organizational elements will help you achieve that goal.