At KRB Kitchen & Bath Design Center we take pride in every detail when designing your new luxury kitchen. Your kitchen is a major piece of your everyday life and needs to reflect your design aesthetic and work well for your lifestyle. A kitchen renovation is a big investment and it should be a beautiful and functional space that you love. There are so many design choices to consider and we hope these ideas can inspire your renovation. The pieces of a kitchen renovation can be overwhelming for many, but with the help of a designer you can help bring your vision to life.
From cabinetry, to light fixtures, countertop materials, layout and even the smaller details like hardware. Pulling together a beautiful kitchen requires you to think through the individual details and how they work harmoniously together. Designing the kitchen of your dreams is something that requires plenty of planning and most importantly inspiration. The selections you make are a big piece of the design and play a key role in achieving a certain aesthetic in the space.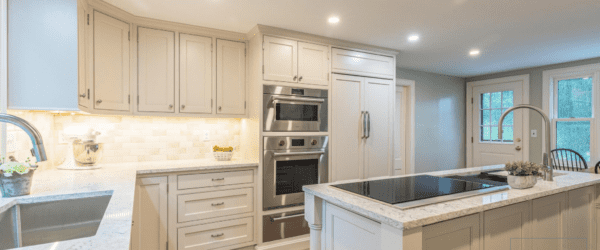 Customizable Cabinetry
High-end cabinetry is an expensive feature, but absolutely a key consideration when planning a kitchen design. Beautiful, quality cabinetry is the foundation of any kitchen because it is a key design element that establishes the style of the space. Customizing your cabinetry allows you to think through the layout of the space and what your storage needs are, and has a quality and warranty behind it that makes this large investment worth it. When you select the design and details of your cabinetry there is peace of mind in knowing exactly what you are getting, and that they will be high-quality and long lasting. Cabinetry is an essential design piece because it grounds the space and helps achieve the design aesthetic you are designing around. When you visit our showroom we have door and color samples of all our cabinet lines which gives our customers the opportunity to see and feel the quality cabinetry they are getting while being guided by their designer.
High-End Appliances
There are so many features that appliances have these days, function and beauty come together. It's important to consider what kind of cook you are and how you use your kitchen in your everyday life. High-end appliances will not only change your cooking experience, but they will be a stand out design feature that can really be a centerpiece in your kitchen. They account for a large piece of the overall budget so choosing your appliances means you should consider your needs. Brands such a Subzero, Wolf, Thermador, Miele, Fisher & Paykel are trending and blend a high level of functionality with beautiful design. These are so much more then just appliances, they truly change how a kitchen functions and are a perfect choice for anyone who enjoys cooking. The clean lines that often dominate the design of upscale appliances make them a standout design feature. It's important to take the luxury level of your home into consideration, this is key for the ROI because some appliances do not make sense if a homes value is a below a certain amount, this should also be taken into consideration when designing a new kitchen.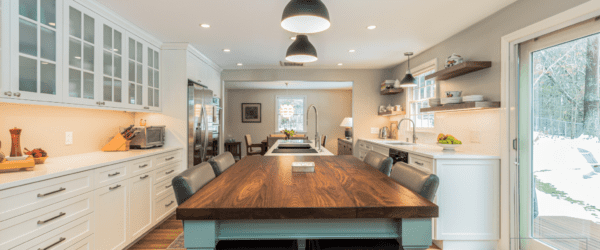 Mixed Countertop Materials
Countertops make a design statement and need to be chosen to match the style of your kitchen. Many are choosing to mix materials, to achieve a variety of texture, color and contrast within the space. Complementing a granite or quartz countertop with wood brings warmth and contrast. People will choose to incorporate warm wood on an island, which is a beautiful and durable choice that offers a perfect contrast to your kitchen. Utilizing wood on an island often creates a high end and beautiful custom touch to your kitchen that gives it a more lived in feeling. But what's most important to remember is to pair countertops together that both compliment each other and bring either a color, texture, or movement to the space, because that is something that newly designed kitchens incorporate and this gives your space a unique design feature that works with many styles.
Quartz, marble, granite, porcelain and other solid surface materials are all a popular choice and can be used across the spectrum of design styles. But what's incredible about counters today are that they blend with virtually every style, and that means there is truly a good option for every price point. The biggest piece of the selection process is determining what is most important to you, are you focused solely on the appearance, the durability, or are you wanting a balance of both? Maybe choosing quartz on an island and a solid surface counter, such as a porcelain or Silestone for the perimeter is a better choice if that is a high traffic area of the kitchen for you. It's important to select a counter that will blend with your lifestyle and function how you need them to without sacrificing style.
Lighting Details
The lighting in a luxury kitchen is like sparkle on a diamond, its a focal point within the design. It can bring depth to the room, and highlights the design details and exquisite finishes. Pendant lights are often a popular choice for the island area, while wall sconces may be the perfect style element for a sink or stove area. It's important to think about recessed lighting versus pendant lighting and what is the right balance for your kitchen. Accent lighting, often is accessory lighting and can provide elegance and ambiance, and can make a major impact in the space. For example, large scale pendant lights over an island can ground the room and be a perfect accent in the room making a large kitchen not feel overwhelming and can give your room the ultimate feeling of luxury that pulls the entire space together. And the beautiful piece of accent lighting is the ambiance it can give your kitchen.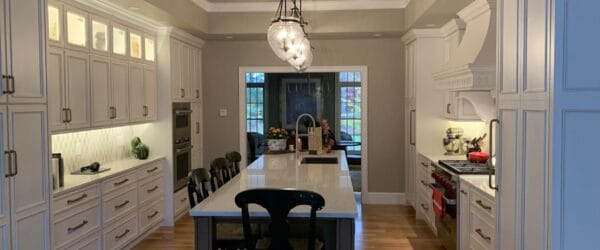 Multiple Refrigerators
As with double ovens, having multiple refrigerators is great for those who entertain or have large families. Additionally, utilizing smaller under counter or drawer refrigerators is a wonderful way to break your kitchen into functional zones from refreshment centers to prep stations. When redesigning your kitchen these are the design decisions that can increase the overall functionality and provide convenience which is key, especially if you spend a lot of time in your kitchen. An under counter fridge makes storage of beverages and smaller snacks in your kitchen easier, and more accessible for both kids and adults which is a bonus!
Hand Crafted Tile
If you want to add a unique feeling to your kitchen consider adding hand crafted tile. The subtle imperfections can add a rustic, or old world touch, and that is sometimes the perfect way to balance out a contemporary inspired space. Hand crafted tile can be used in backsplashes and flooring to add a luxurious feel to any kitchen. We often see hand crafted tiles in coastal modern, and transitional kitchens because they give your space a more lived in and warm feeling. The imperfections of the tile can soften a modern design which may be the touch of character that your kitchen needs.
Reclaimed Wood Floors
Wood floors are a perfect choice for any style home. They are one of the most timeless flooring choices and whatever the finish or color will bring texture and warm tones to your kitchen. In many ways the rough and worn boards add character, and the unique features of each board tell a story. Choosing reclaimed wood floors can be a grounding design statement because it puts the imperfections of the floors on display in a major gathering space of your home. In the past, they were a popular choice for farmhouse styled kitchens, but now reclaimed floors are being paired with modern and transitional design, which is the perfect element of warmth for these designs that typically have clean lines and sleeker design. The rustic design also makes them a perfect choice to hide any wear and tear from your everyday life, which makes them incredibly appealing. Wood floors have always been a popular choice for kitchen flooring, but with reclaimed wood they are a design feature and standout design choice for a kitchen.
Coffee Stations
Whether for entertaining or just your morning ritual, coffee stations quickly takeover as the favorite part of the kitchen. They are rising in popularity and can become a beautiful design feature in a kitchen. Often times adding glass paneled cabinetry and differentiating the space makes it feel more luxurious. Having plenty of counter space and cabinet space for mugs, coffee, tea and all the other essentials for your brewing are things to think about. There are options when it comes to the coffee maker and the setup of the station, some combine a built-in coffee system with an under counter refrigerator, or refrigerator drawer, however you decide to configure your coffee bar think about what works best for you and that you will enjoy each day!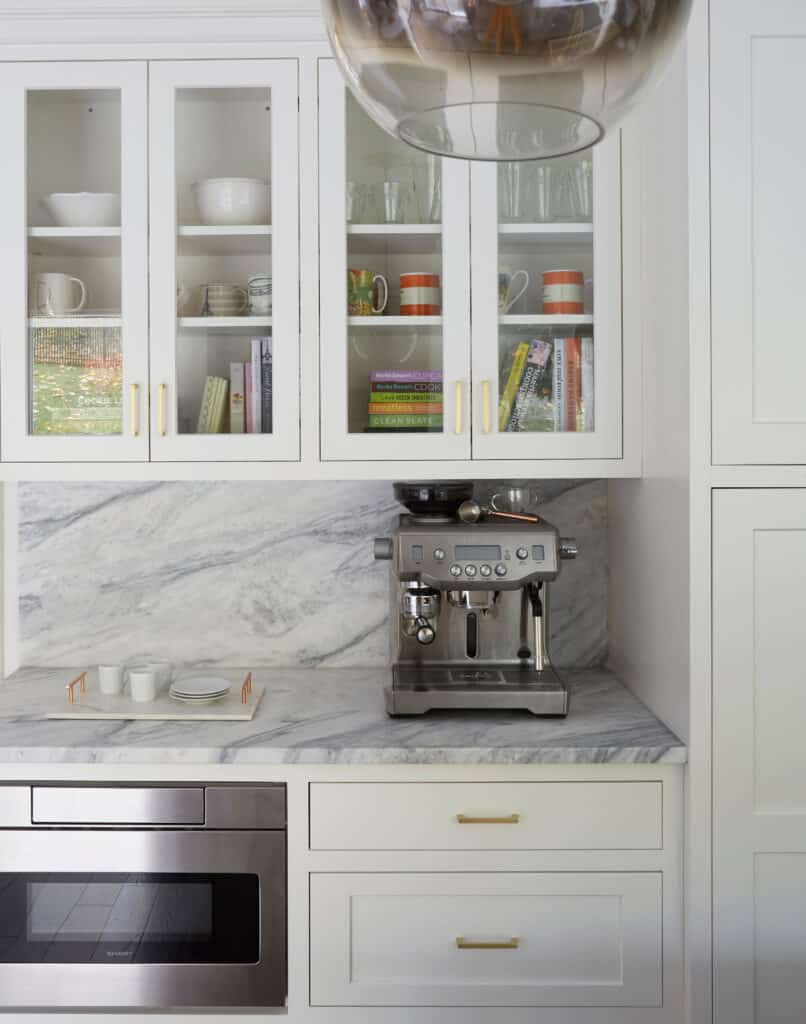 Organized Design
Organizational accessories may not have the flash and sparkle but luxurious kitchens should have a place for everything – and easy access to it. If you want to get really excited about cooking, use drawers (or pull-out inserts) throughout your base cabinets. Thinking through what pans and dishware you use the most and making sure you have a proper amount of space to easily access it is key. What's great about functional storage is that it changes the way you use your kitchen and with more organization comes greater relaxation. If you host gathering in your kitchen frequently, consider having a space within the kitchen dedicated to place settings, and other pieces you may use when entertaining. But what can be best about having cabinetry that works with your lifestyle is having an overall layout that works well your lifestyle. Creating a functional layout that is also beautiful helps make your day to day life easier and more seamless, and making your kitchen an overall calmer environment is key.
Wall cabinets are a great place to think through design and how you need overhead storage to function. The shelving layout is so key because you can create designated spaces for things such a spices, Tupperware, and any other items that may have certain space requirements. When thinking about your kitchen layout, consider how you need the space to function for you now and into the future. Working with a designer will help you understand the features and places where organization can be key in maximizing functionality.
Work Zones
A huge piece of kitchen design is functionality, how you use the space dictates the layout. It's important to keep in mind that even if you have plenty of space in your kitchen, separating your food prep space from your dishwashing space, or even your seating area makes sense for many reasons. Maybe a large center island is the answer to creating a more efficient way to cook and still be apart of the conversation. The most important thing to consider is what makes sense for your household and lifestyle, this should shape your design. For example, having a casual seating area with a breakfast nook and an island or peninsula will ensure you have plenty of seating, making it a true gathering space. Layout is something that many struggle with, but working with a designer ensures that all of your needs will be met. Through partnering with a designer you can discuss what works and doesn't work within your current layout and how redesigning the space with different zones can change the functionality and make your kitchen more enjoyable.
Oversized Island
Islands have replaced the kitchen table, and has changed the functionality of the kitchen forever. From casual dining, to food prep and everything in between, islands are the perfect place to gather. There are so many options when it comes to kitchen design but the island has become a focal point in the space and is certainly a feature that can take your kitchen over the top. Thinking about the surface area and seating configuration is a key place to start. What we love about island design is the way that an island can ground the space and make it feel enlarged by simply maximizing the floorplan and creating travel space around the kitchen while also adding so much functionality. The great thing about an island is the way it can create a focal point and be framed within the room, and sometimes the best way to achieve
Focal Points
Our eyes naturally follow lines. In a kitchen, those lines come from a variety of sources such as a countertops, cabinetry, and molding details. Including focal points in your kitchen elevates the overall feeling of the room and as kitchens have started to converge with the main living spaces, it's important that your kitchen matches the feeling of the rest of your home. In luxury kitchens, the design will emphasize these details and make them standout features.
The placement of a range, and specifically the vent hood has become a key focal point and "moment" in kitchen design. A fully custom vent hood gives your kitchen an upscale feeling and will feature your range in a beautiful way. Choosing a beautiful range adds an element that can elevate the rest of your kitchen and is like having a piece of art, it can stand alone but is so much more beautiful when it's surrounded by the right accents. Linear cabinetry that can be used for spice storage may be the perfect way to cabinetry on either side of the stove can be a perfect storage opportunity and also a beautiful design feature and add functionality.
Wall sconces are a way of framing the stove area adding what can be a perfect touch of ambient lighting. The size and design of your range will dictate the style and size of vent hood that makes sense for your kitchen. Metals of all colors, rustic wood, or plaster are rising in popularity and depending on the style of the space can add just enough contrast or a subtle compliment. The beauty of a vent hood is that it becomes the main design feature and you don't want anything to compete with it.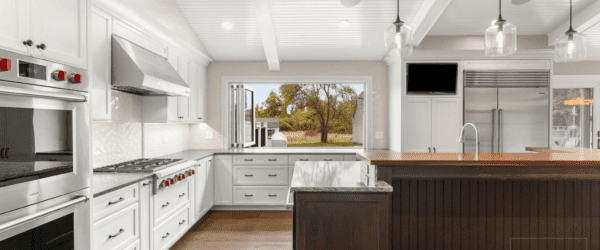 Wall Accents
The walls of your kitchen can be accented with a wide variety of options including paint, tile, wallpaper, stone, modular panels, or something else altogether. It's key to remember that you don't want to have so competing design elements in your kitchen. Considering where it makes sense to have bold design elements that do not overwhelm your kitchen is something that a designer can help you with. A slab backsplash of the same stone as your counters can bring a sleek, contemporary look which can isn't just reserved for contemporary inspired design. Another feature to consider is running the backsplash tile or stone up the wall, this is especially popular if your sink is on a perimeter wall and faces a window. You should not be afraid to incorporate a bold design element in your kitchen, and the style of your kitchen should not make you feel confined to only make selections that match the overarching style. Pulling in an element that speaks to another style can sometimes be the perfect contrast.