Remodeling a kitchen and or bath can be an exciting process. One major benefit of working with a designer is being involved in each step of the design, from the layout, to material selections, seeing all of the pieces come together is rewarding and gives you a peace of mind. Taking the step and deciding to start a renovation is a big one, but staying excited about the project and seeing the schematics of the final project will help you imagine using the space. Investing the adequate time in planning and designing, choosing products and materials, and asking the right questions will give you confidence and make sure the new space will meet your expectations. Keep this list in mind before you start your journey of visiting a kitchen and bath showroom and/or interviewing a kitchen and bath renovation contractor. It's important that you have a strong partnership with a designer or contractor. This will ensure that the whole process goes smoothly, communication is a key piece of renovation success and feeling confident in your choice of a contractor or designer will help you feel reassured that you made the right choice.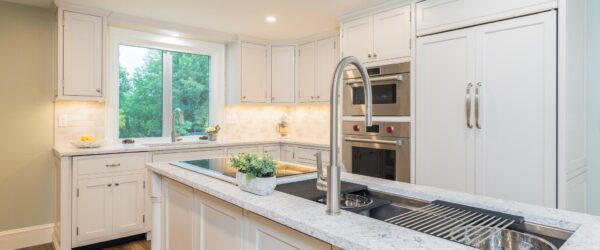 Having an agenda is key
Here are a few examples of questions we get:
Does your kitchen and bath design process help me stay within my remodeling budget?
After we agree on a price and I sign a contract can my final price change?
What's the difference between an estimate and a fixed price?
I see you offer a Project Development Agreement, not a design agreement. What's the difference?
Can someone here help me with picking out colors as well as my kitchen and bath products?
Will I get a detailed description of the work we agree to?
Someone told me your company uses Lead Carpenters. What is a Lead Carpenter and why do you use them?
Be prepared to discuss your budget
One question we often hear is how much will a new kitchen or bath cost? Great question! The best answer is whatever you want it to cost. We work with many different product lines that can work within a range of budgets. The important thing for you to decide is what you are willing to invest in your home. Our designers prioritize your goals for the project, taking into consideration the style, layout, and materials that you wish to use, and they can adjust and make alternate selections based on that budget.
Your budget does not have to be set before visiting our showroom. We always encourage customers to come in and speak with us, we are happy to answer any questions you may have. It's important to keep in mind that you should come prepared and willing to discuss budget with us during your initial consultation.