An outdoor kitchen is the heart and soul of outdoor living. From summer cookouts to fall tailgates, your backyard is an entertainment space that needs to fit your cooking and entertainment needs. They can create a seamless flow be tween your kitchen and yard minimizing those trips going back into your house for all the cookout essentials. Whether you live in a warm climate, or have several months of winter, there is certainly a way to design a kitchen that will function beautifully for you all year round. Designing an outdoor kitchen is similar to designing inside your home, cabinetry, counters, and appliances all pull together a beautiful design that compliments the style of your home and functions for your lifestyle.
Layout is Key
When it comes to the design of your outdoor kitchen the layout and functionality will make the entire space work well for your needs. How much storage space you need depends on how often you plan on using the kitchen. Are you a master chef who needs plenty of space for food prep, or do you plan to serve up snacks poolside? How you are planning to use your kitchen will determine what the right amount of counter, cabinetry, and seating space will fit your needs. If there is space, adding an island or peninsula can be a great way to incorporate seating that will make the outdoor kitchen a space for gathering. This could be the perfect way to include additional seating space that adds to the entire feeling of the kitchen. The beauty of having counter seating is that it promotes gathering in the kitchen, and offers additional prep space.
Covered Kitchen
Choosing to leave a kitchen open to the elements or covered by a roofline or pergola will change how often you use the kitchen. Sometimes there are different sections within an outdoor space, these can include a casual seating space, and or dining space. In warmer climates, outdoor kitchens are used year-round, and covering the kitchen may be the best option to make the kitchen feel integrated into the yard and not just an afterthought. Many people choose to add a pergola, or even extend the roof line of the home to completely cover the kitchen. Having a covered kitchen will not only protect it from the elements, but it will make it an enjoyable space that can be used throughout the year. It will also define the outdoor kitchen space and make it feel even more formal.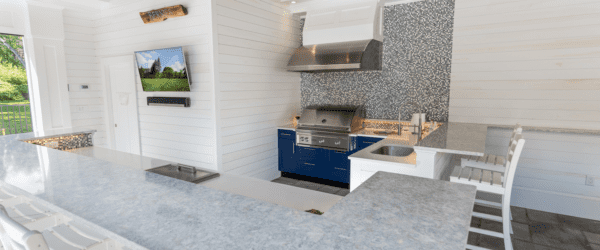 Counters & Backsplash
Counters are a critical piece of the design when it comes to appearance and functionality. When it comes to picking a material, it's the same criteria you would consider when choosing a countertop within your home, it needs to match what you are looking for aesthetically while also being able to withstand the elements. Outdoor kitchen design means making a statement and needs to be something that you will love. The beautiful pieces of outdoor kitchen design are the same as the choices you would make for an indoor kitchen. Counters and cabinetry create the ultimate kitchen and make it the heart and soul of outdoor living.
It's important to look at the outdoor kitchen as an extension of your kitchen. Having a backsplash behind the sink is a great way to keep the entire kitchen feeling finished while also adding functionality. When adding an island or bar area, this is where a backsplash is often found, not only does it elevate. The beautiful part of outdoor kitchen design is that it will make your yard a beautiful space and makes the entire yard feel finished.
Sink
Having a sink in your outdoor kitchen is a complete game changer, and will make it even more of an enjoyable experience every time you use it. Instead of taking dishes in and out of your home, you can wash them all outside. If you know that a sink will be included in your kitchen design, it may make sense to have a separate set of dishes for your outdoor kitchen. This will eliminate trips in and out and also help you entertain with ease.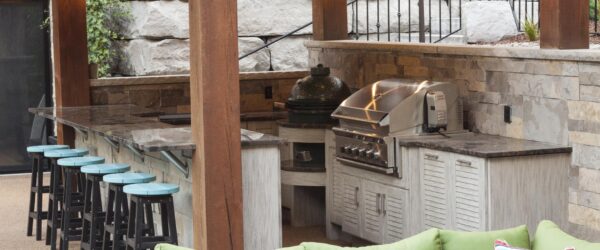 Lighting
Let's talk about lighting! When it comes to the outdoors, and any sort of outdoor gathering space, many people choose to go with garden lights. While these can be the perfect touch of ambient light, they may not be the best choice for a space where you plan to be prepping and cooking. This is why the placement of your outdoor kitchen is so key, if you want brighter task lighting, recessed lights are typically the best option. If the kitchen is going to be placed on an external wall of your home, hardwiring for recessed lights is typically not an issue. However, if your kitchen is located further from your house under a pergola or some sort of open structure, then lighting will be more of a restriction. That's why in the early phases of the kitchen design, this is something you will want to think through.
Living Space
When you're designing an outdoor kitchen it's important to think about where else you'll be able to sit, eat, and enjoy. Having a living area that includes seating will make your outdoor kitchen more of a gathering space that is both inviting and practical. While entertaining guests will be able to have conversations and enjoy your yard, and having this casual seating close to your kitchen will take your yard to the next level.