Kitchens and bathrooms are the foundations of good home design. They are a reflection of your aesthetic and help to tell your story. Because these are the spaces where you start and end your day, they should each blend seamlessly with your lifestyle and function beautifully. In 2023, balance is predicted to be a rising focus in kitchen and bath design. Pairing bold and sleek design elements with a touch of natural wood offers a beautiful contrast. While kitchens and bathrooms have always been at the heart of a beautifully designed home, they are increasingly blending style and luxury to provide the entire home a truly cohesive feel.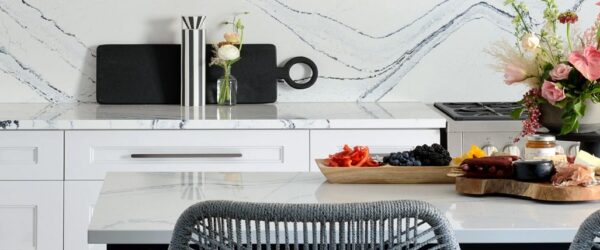 Photo Credit: Cambria Inspiration Gallery
Butler's Pantry
Storage that functions beautifully is key in kitchen design, and so many homeowners are seeking additional storage space outside of the main kitchen. A butler's pantry can be multifunctional, offering additional storage, food prep space, and even a home for small appliances. The beauty of having separation between the kitchen and pantry is that you can choose to carry the design of the kitchen into the pantry, or you can design the space to be entirely different, giving each of the spaces a separate aesthetic entirely. Placing the pantry off the kitchen or even through an open doorway can make it a standout design feature that is visible, which can create another beautiful focal point of the kitchen design. However you choose to design your pantry, it can be a valuable place to keep extra things that would otherwise clutter up your main kitchen while also being a beautiful design feature on its own.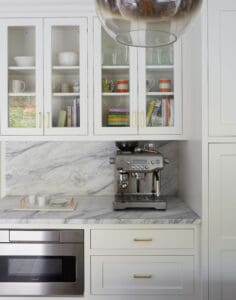 Photo Credit: Woodharbor Gallery
Slab Backsplashes
The material that you choose for countertops can be carried up the wall as a backsplash. A slab backsplash lends a fresh, modern feeling without being too bold. It can extend the richness of your countertop in a beautiful, unexpected place, and be a true focal point in your kitchen. The seamless look achieved by extending the countertop up the wall brings a cohesive and decidedly luxe feel to your kitchen.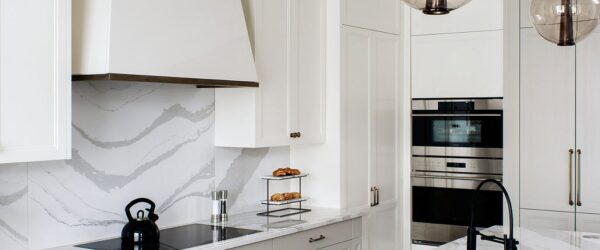 Photo Credit: Cambria Inspiration Gallery
Large Islands
There is so much to love about open concept kitchen designs, and what is even better is that this makes more space for an island. In fact, many kitchens are being designed around the island which means that it is critical to get the size and design right. Islands have replaced the kitchen table and are the spot for everything from food prep, to gathering and casual dining. The beauty of a large island is that it makes a design statement and adds functionality, which is something that kitchens of all sizes and styles can benefit from. What we love most about an island is how much of a statement it can make in a well-designed kitchen.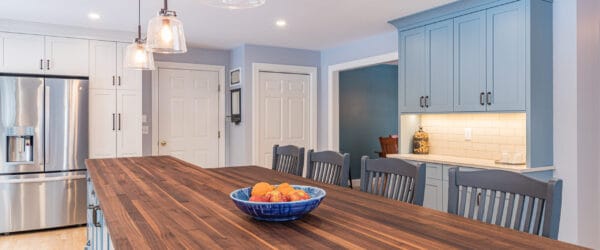 Photo Credit: KRB Kitchen + Bath Design Center
Let's talk bathrooms….
When it comes to bathroom design, they are becoming increasingly more high-end and spa-inspired. Bathrooms are a place that should reflect your personal style and be an enjoyable, relaxing space in your home. Larger bathrooms are giving more opportunity for luxurious elements such as steam showers, a freestanding tub, and even seating areas. En suite bathrooms are an extension of the bedroom and carry the style and feeling of the bedroom, making the transition from the bedroom to the bath seamless and cohesive.
Keeping Things Light
Choosing a light color palette offers so many options and ways to make the design of your bath in an elegant or simplistic way. Neutral colors can be the perfect back drop for rich accents such as a wood vanity, matte black hardware, or a bold floor or shower tile. There are so many opportunities to increase the luxury feeling through other elements. A light palette is the perfect choice for smaller baths that can help give the illusion of space, but in a large bath having a light palette can make the room feel even larger and more luxurious. Having elements of warmth will soften the harshness of a mainly white bath and a rift oak vanity, wood inspired tile or even a shower bench can be a great element to pull in the movement and contrast that wood can offer. The beauty of having a natural element is that it can give a spa like essence in a subtle way and can be the perfect choice to complement a muted color palette.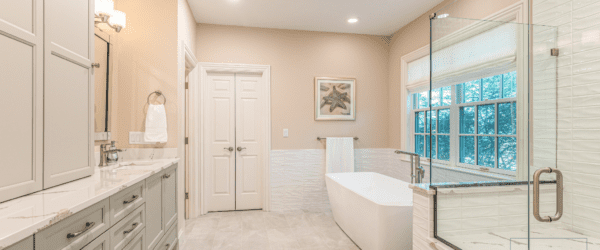 Photo Credit: KRB Kitchen + Bath Design Center
Metallic Accents
Some consider metal to be a harsh and industrial material, but this depends on the choice of metal and the aesthetic of the bathroom. The trend of mixed metals is starting to carry into bathroom design and popular ways to do this are with hardware, and fixtures. Don't be afraid to mix metals! Pairing a chrome faucet, with a gold shower head will help achieve a lighter feeling. A layered look brings a sense of elevated luxury to the space and will bring the right touch of contrast. Depending on the aesthetic of the bathroom, layering metals can help give a fresh, and upscale feeling to the space.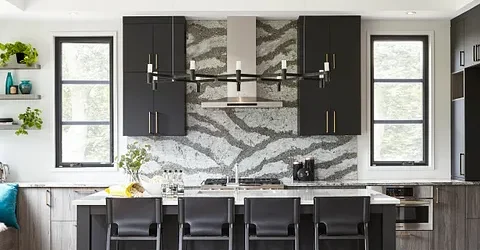 Photo Credit: Cambria Inspiration Gallery
Wet Rooms
The ultimate way to achieve spa inspired luxury in a bathroom is to include a wet room. Designed to combine a shower and tub in one combined space, wet rooms offer an area that is separate from the rest of the bath that can either be partially or fully enclosed with glass. Wet rooms make sense for a variety of reasons but a main reason for their popularity is that they create division in a bathroom, which can be both practical and beautiful. There are a few factors that make a wet room stand out, with the overall the layout and placement of the shower in relation to the tub being critical to the design. From garden tubs with a tile or natural stone surround, to freestanding soaker tubs, the shower to tub ratio is a key design choice. The materials you choose for the wet room need to be carefully considered because floor to ceiling tile can create a challenge when it comes to cleaning. Choosing a textured tile or even stacked stone will help alleviate this issue while helping make the wet room a beautiful design feature. Overall, the design of a wet room should be as beautiful as it is practical.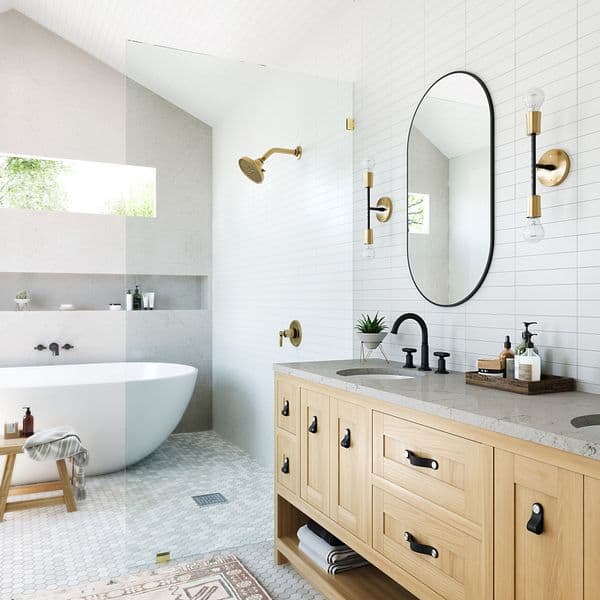 Photo Credit: Cambria Inspiration Gallery
Wallpaper
Whether you choose to add an accent wall behind a vanity or to bring luxury to a small bathroom, wallpaper is a great way to add color and pattern to a bathroom. The great thing about wallpaper is that it can enhance and add elegance to simply designed spaces. The wallpaper typically dictates the color choices for the other material selections and pulls everything together. Choosing a wallpaper for a bathroom adds to the overall luxurious feeling and is an unexpected design choice which can really enhance the aesthetic of your home in a beautiful way. What we love about wallpaper is how pattern and color can profoundly change the feeling of the room and elevate the space.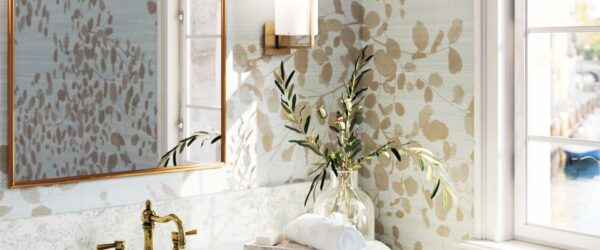 Photo Credit: Cambria Inspiration Gallery
Interested in remodeling your home?
Looking for the latest kitchen & bathroom design inspiration, follow us on Instagram and Pinterest.