A sleek, modern kitchen can be a beautiful addition to your home. Many people believe if your home isn't truly designed with a modern or contemporary aesthetic throughout, adding a modern kitchen will not match the rest of your home. The key to achieving a modern kitchen is keeping in mind minimal lines, clean surfaces, and neutral colors. It's the combination of these elements that lay the foundation for a beautifully designed space that will always feel refreshing. Blending modern design with softer elements is a way that it can tone done the sometimes harsh and keeps the overall space feeling lighter and more open, while also keeping the sleek lines and clean aesthetic.
The Design Pieces
What some people often appreciate about modern design is the beautiful simplicity. Choosing a sleek style of cabinetry that has minimal lines and molding, such as a slab style will give the entire kitchen a crisp appearance. Pairing a simple style cabinet, with a counter such as quartz, concrete, or a composite material such as Silestone can add a hint of contrast in the form of color, pattern, texture, or all of these combined. Sleek surfaces are not only durable but they can be the perfect opportunity to pull in a pop of color that will enhance the overall design, and can break up a neutral palette. Through choosing a simpler style cabinet this lets the counter become even more of a focal point in the space. But even more, what stands out most in a modern kitchen is the luxurious elements such as cabinetry, an island or multiple islands, and an overall crisp and sleek feeling that lets the features of the kitchen each stand out while also blending beautifully.
Having a well defined island in the kitchen means it will ultimately becomes a center point for everything from meal prep to entertainment. There are so many ways that an island can improve the use and functionality of your kitchen while also defining the kitchen in the ever rising trend of open concept living areas. The feeling of a modern aesthetic can be very calm, and subdued and this is due to the individual design elements that together create a cohesive appearance. The combination of subtle colors paired with warm accents such as wood offer a beautiful natural feeling that inkeeps with the clean modern aesthetic. Modern kitchens have often been referred to in a bland and cold way, but now there are so many ways to bring warmth and beauty to the entire space. There are so many elements that make the entire space a bold
Bold + Stark Colors
But what's a huge feature of the modern kitchen design is an overwhelmingly calm feeling which is influenced by the calm colors and simplistic style. Softening these colors is key to making them feel less overwhelming. The color palette of modern design is often centered with basic colors that can sometimes feel stark in such a high traffic room in the home. Often in modern design we see designers stick with a color palette of black, white, gray, and pulling in a warm neutral such as beige or green. Don't be afraid of these colors just because they seem intimidating to bring into your home. They are truly foundational colors that will blend with any style, and that is such a key piece of creating a cohesive home.
Designing with these colors offers plenty of opportunity to pull together a design that feels pulled together and well balanced. These colors allow a designer to pull together a design with them. They provide a foundation for the design that helps you choose aspects of the design such as the counters, cabinetry, and backsplash and there are plenty of opportunities to give a rich and luxurious feel.
Through pulling in a variety of colors and textures a bolder color scheme of mostly black, white, and gray can be enhanced with plenty of warm accents. What's important to remember is that having a kitchen design that is built around a simpler color palette will help the entire space feel calmer and more cohesive. A clean aesthetic in a kitchen is absolutely something that will make it timeless and enjoyable. And modern kitchens are becoming much more then just a space with a cold feeling, warm design is possible.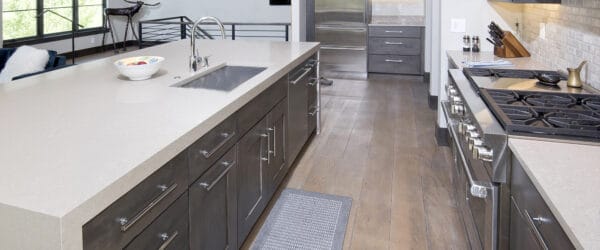 The Island
The island has been a rising trend in kitchen design that continues to be the centerpiece for everyday living. Depending on the size of your kitchen and the feeling you are trying to achieve will give the entire space a certain feel. A large center island can offer so much more then just a casual seating area, it's a perfect way to make the entire space feel less like a kitchen and more like an extension of the main living areas of your home.
An island is a beautiful feature that makes food prep and entertainment come together beautifully. Islands have become a centerpiece that can provide contrast from the perimeter and other design features in the space. An island is an opportunity to make a bold design statement with a large element that can be the centerpiece and hub of the kitchen, and that is something that is worth thinking through.