Spring is the perfect opportunity to refresh your home and making a few simple changes can give you peace of mind and your kitchen a refreshed look. Think about the upgrades you can make that will help update your home, and perhaps even inspire you to take on bigger renovations in the future. It's often the small upgrades that can make the biggest impact, such as changing your hardware, getting new appliances, or simply painting. You'll be happier in a home that reflects your style, and feels updated. Use these tips to make your spring kitchen renovation a success!
Counters Make a Statement
If you love the look of your kitchen cabinetry but want to refresh your kitchen then the answer may be Choosing a new counter material like quartz or porcelain will change the entire look and feeling of your kitchen. Counters are a perfect way to transform the look of your kitchen while saving money on a layout change. Depending on the material you choose and how much square footage you need, remnant pieces may be the perfect choice for your kitchen and offer a large cost savings. This is a change that can make a big difference and completely change your kitchen, giving it a refreshed look that you will love.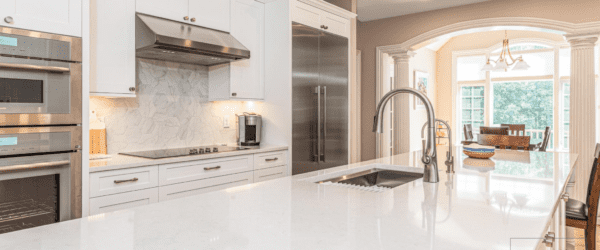 Make Your Counters a Place of Peace
A deep clean can go a long way in making your kitchen fresh and ready for the new season. Take everything off of your counters, use your favorite cleaning products of choice and clean your counters, backsplash, and cabinetry. This is a simple task that will give you peace of mind each time you step foot in the kitchen, and that is well worth the time.
Spring is the perfect time to step back and find ways that your kitchen can be more functional. Organize your spices, appliances, cleaning products, pots and pans by creating structured storage spaces using a wide variety of products. This will cut down on the digging you have to do to find the right pan or spice deep in your kitchen cabinets. Keep your trash out of sight by using a pullout cabinet system to keep the smells and trash hidden.
Hardware Change
If you want to give your kitchen or bath a quick and inexpensive change, then choosing new hardware may be just the change you need. Not only is hardware a quick change, but it can make a big impact and instantly update your kitchen. Choosing the right style and finish is key, you don't want the hardware to make too big of a statement, but you should focus on what you need the hardware to achieve. For example, do you need a bolder style to change the look of traditional styled cabinetry, or maybe a honey bronze finish to bring some warmth to wood cabinetry. Whichever style and finish you choose, this is a change that will give an instant face lift to your cabinetry.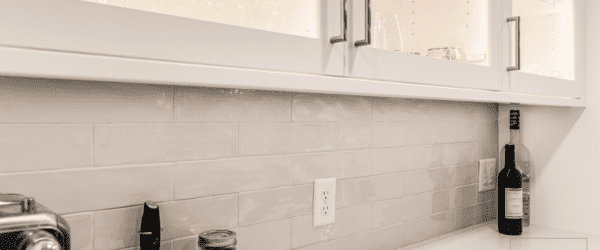 Add Some Glow
It may be time to give your kitchen a lighting upgrade. There are so many lighting options, from adding pendants over an island, to adding recessed lights, whatever your needs are, there is a lighting solution. Having additional lights will make the entire cooking experience easier, and also help make your kitchen a brighter space in your home. When you think about where extra light is needed, consider where you do the majority of your food prep, and the areas within your kitchen that you actively use. If you're wanting to add soft, ambient light then choosing something less invasive such as under cabinet lights, interior cabinetry lighting, and shelving with lights may be the best way to achieve a soft glow. The choice is yours, but thinking about what kind of light you need in your kitchen will help you make the best decision and transform your kitchen in a beautiful way.
Bring Modern Style to Your Sink and Accessories
You can change the look of your kitchen with smaller scale projects. It's important to remember that little changes can help update the look and feel. If your kitchen faucet looks like it is from another decade, installing a new one can bring a modern feel to your sink without a large cost. Want to add a spraying nozzle, but don't have a spare hole on the sink? A faucet that has everything built-in to one can help you choose a sleek faucet that will meet all your needs and look modern.
With your new faucet, follow through with a few updates on your cabinets. Combining some of these ideas into your spring renovation can make your kitchen functional and breathe new life into an outdated space. Still need inspiration? KRB Kitchen & Bath Design Center is the perfect place to stop in for some inspiration and speak with us about any future kitchen or bath renovation plans you have in mind.