There is something about the cool, coastal colors that make them a perfect choice for your kitchen. Whether you live near the water or just wish to bring some of the relaxing just dream of it, this beautiful style will bring a sense of relaxation to your home and make it a retreat. The colors and texture of the beach can be pulled into various design elements and can give your kitchen a fresh and calm feeling. One of the biggest pieces of coastal design is the balance of warm and cool colors, coastal design can be included in many styles and whether you choose to include traditional pieces of design or contemporary, the beauty of coastal design is that it's timeless and blends so well with other styles that may be in your home.
A driftwood essence
Softer wood tones such as a rift oak, pull in the look of driftwood and helps achieve the beachside feeling while adding warmth and contrast. If the wood look overwhelms your space, white perimeter cabinetry with a wood island may be the subtle touch of warmth that you need to soften the space and pull in warmth and texture to the design. The beauty of choosing a soft wood tone is that it will not overwhelm the space and is a subtle natural element in the space.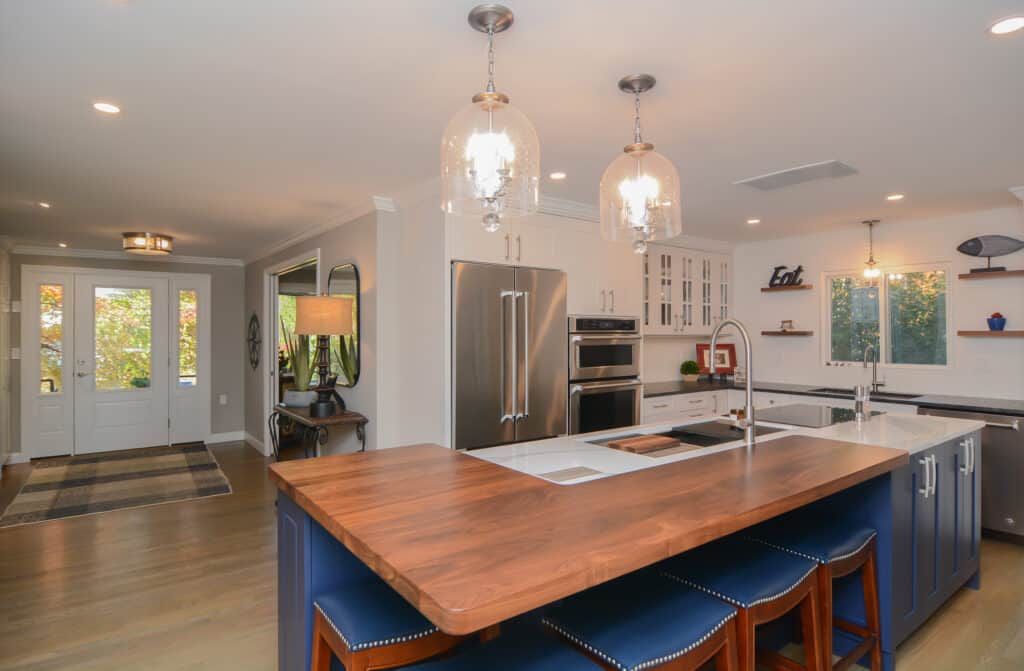 Fresh white
If wood tones are not in your design, white may be the refresh that your kitchen needs. Having white be the primary color is typical in a modern inspired design and it's the shades of blue and beige that are accents. White cabinetry paired with a quartz countertop can blend modern and traditional design and help create the perfect foundation for a crisp and coastal kitchen. It's the countertops and backsplash that can serve as places to add pattern and texture. A white kitchen will not only brighten your home, but it will be a space that you enjoy being in, and it's a classic design choice that will always remain timeless.

Splash of blue
Blue pairs perfectly with coastal design, and there are so many options on how this can be done. From bold, deep blues like the water off the coast, to light blues found in the sea glass on shore, and all the shades in between the blue you choose to incorporate is a personal preference and can be pulled into the design in a variety of ways. Blue is a beautiful pairing with shades of beige and white and is a perfect way to bring in a bolder neutral. Whether it's a blue backsplash or veining in a countertop, there are a variety of ways.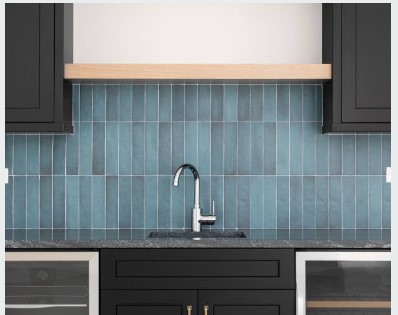 Accenting the coastal feel
The choices you make when it comes to choosing furniture help give your kitchen the calm, beach feeling. Popular choices that give a beachy feeling include raffia barstools and kitchen chairs, which are the perfect accent and can be a more subtle way to include color. Your furniture choice is something that will only enhance the beachside feeling and make your kitchen a standout space. Sticking with simple a simple style in wood is typically a look that is popular because it doesn't detract from the overall design, it's simple an accent to the overall color palette.